FUELMINER
Advanced data analytics for fuel efficiency and performance.
FuelMiner analytics and big data capabilities complement Certusoft solutions by providing performance analytics under real-world conditions. Together, these technology solutions enable OEMs to serve their customers throughout the vehicle's life cycle, from custom-built to operations.
FuelMiner Data is BIG DATA! A typical highway truck generates from two to ten GB of data per week of operation. The FuelMiner data set comprises high-speed records collected from the truck's CAN (Control Area Network) bus with the SAE J1939 Standard. FuelMiner makes use of all PGN and SPN signals, as well as the truck's GPS location.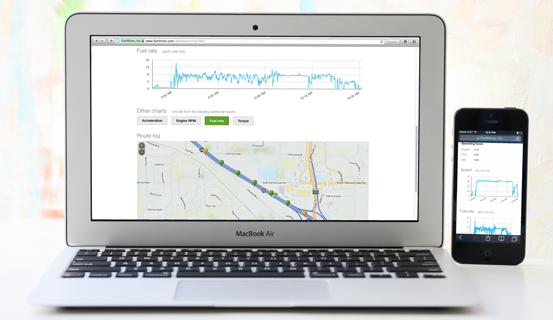 Features
Our in-depth data analysis shows where the truck wastes fuel, component by component:
Aerodynamics resistance
Rolling resistance
Terrain (grade)
Idling fuel
Braking
Traffic
Acceleration
Accessories: fans, alternators, etc.
Our analysis also identifies core trouble areas such as:
Mismatched powertrain components
Excessive aerodynamic drag of trailer or truck bodies
Excessive rolling resistance for vehicle and trailer combination
Improper gearing
Fuel spent going over certain terrain types
Our CAN data recording is simple and flexible:
Pluggable FuelMiner Logger for high-speed CAN recording
Data conversion to CSV (Comma-Separated Values) format for ease of use in other applications.
Data written as time series with UTC (Universal Time Coordinated) time stamps. GPS locations are reported as UTC vs. Lat/Lon.
OUR WORK
Fuel economy and performance vary significantly with the vehicle design and configuration, road profile, and payload. The variation is more pronounced for heavy-duty trucks and understanding its origin is critical to maximizing fleet profitability. We have demonstrated a method to continuously estimate fuel consumption breakdown over resistive forces during a trip. The method is fast, cost-effective, and capable of analyzing trip segments as short as one second.
Our publications:
Rolling Resistance Validation. Link
Time-Resolved Estimation of Fuel Consumption Breakdown of a Heavy Duty Truck Under Actual Road Conditions. Link
More information at fuelminer.com